Our

HISTORY
In 1965, Roger and John Edmonds formed a partnership. They wanted to see if a full time landscaping and property services enterprise could be developed from the grass cutting operation that had functioned as summer employment for John for a couple of seasons before.
In 1966, Edmonds Bros. Enterprises Limited was incorporated.
Through the late 60s and 70s, the operation diversified significantly to include not only landscaping but broad snow and ice control services, gasoline retailing and automotive repairs, retail garden centers, various residential and commercial rental properties, heavy trucking, a 100 acre farm for the production of sod and nursery stock, pre-cast concrete manufacturing and a commercial/residential fencing division. By 1978 the Company's combined operations employed more than 175 people with revenues approaching 6 million dollars and a market area which included the Maritime Provinces, Quebec and Ontario.
In 1979, the company was re-organized to concentrate on its core services: landscape maintenance, landscaping, snow and ice control services and other property-related services. The result of the re-organization was the incorporation of Edmonds Landscape and Construction Services Limited.
In 1989, Edmonds Environmental Services Division was formed as a research and development, advocacy and promotional arm for environmental, sustainable initiatives in the landscape industry. This marked the Company's firm commitment to the development and implementation of pesticide-free, organic landscaping and lawncare.
In 1998, John withdrew from active involvement in the day to day operations of the Company and in 2007, Roger purchased John's interest in the Company.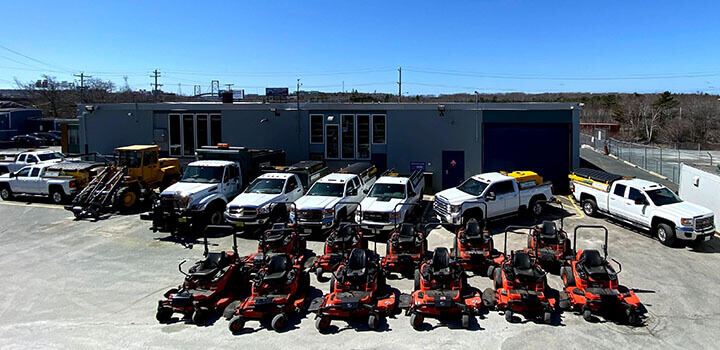 Today, as Roger and Edmonds Landscape and Construction Services Limited enter into their sixth separate decade of operations, the Company has come full circle.
Drawing on the experiences of more than 50 years of continuous service to a wide array of customers, the company now prides itself as one of the region's leading landscape management, construction and snow & ice management services enterprises.
Mark and his team were very professional. They worked efficiently and left the property looking as I had requested. Mark accommodated my request to further trim back bushes and a few tree limbs. What they did in one day would have taken me weeks and investment in more garden tools. Thank you for accommodating my tight time line for this job!!
Pam Dalseg
We recently had Mark and Kelly from Edmonds put in a brick walkway for us. I had provided a picture of what I was looking for and I got exactly what I was hoping for. The team at Edmonds were great to work with and I will certainly use them again for any future landscaping projects I may have.
Cathy Wilson
I want to pass along the positive comments that we have been receiving here at the Dominion Building regarding the cleanliness of our sidewalks since the storm. Your hard work and effort has not gone unnoticed.
Jerry Fraser, Maintenance Team Leader
Brookfield Global Integrated Solutions
We have been receiving very positive feedback from everyone who is outside on the grounds during our Convocation days. Again many thanks to you and your team for so successfully taking on the challenge of having the campus ready for convocation in the last few weeks.
Tom Strapps, Maintenance & Operations
Saint Mary's University
We had a vision of a stone terrace that reminded us of our favorite café in Barcelona, Spain. Edmonds Landscape professionally guided us with their knowledge and expertise. They listened to our ideas and when asked provided us with excellent advice to get the most out of our space and showed great attention to our level of satisfaction. The outcome was better than we had envisioned.
The Bradley's
Halifax
Edmonds has had the landscape maintenance contract for the Department of Transportation and Infrastructure Renewal since 1999. Our landscape contract covers fourteen diverse properties, some with high public visibility such as the Swiss Air Memorial sites, Government House, Province House and the Museum of Natural History. I have an excellent working relationship with the company. Edmonds responds immediately to special requests; work crews are well trained and work is of a very high quality in their attention to detail.
Nova Scotia Transportation & Infrastructure Renewal
Nick Coffill
Supervisor Building Operations
Any of the jobs that I have had done - be they pavers, tree trimming or garden beds, or fence construction - were all done well and I was satisfied…The quality of the workmanship and materials supplied remain long after the cost has been forgotten.
Leroy Roy
Halifax
We have contracted with Edmonds for snow removal services for over two dozen properties over the past twenty years. We appreciate that they have sufficient resources in terms of their equipment and that it is consistently in good working order, as well as sufficient labour forces. They also have access to extended resources in the event that extra assistance is required, so that we are not constantly in a position of waiting to be serviced.
East Port Properties Limited
Judy Wall, Property Manager
The time came for us to give up snow clearance on our double driveway and walks so we decided to contact Edmonds. The service has been outstanding. Our drive and walks have been shoveled and cleared before 6:00 am. In the event that we are 'plowed in' later on, a quick call brings almost immediate results. It has been a great relief to have such good service.
Norman Graham
Home Owner
Edmonds has been contracted for seasonal maintenance at many properties that I have managed throughout my 17 year property management career. Edmonds has proven they are capable of looking after all aspects of landscape maintenance and snow removal. Risk management is a large part of my responsibility. Edmonds safety program in my opinion not only leads the industry but also serves as a model for any business.
Ashford Properties Inc.
Harold Daley, General Manager
Edmonds has provided Landscape Maintenance services to Saint Mary's University for the past many years. The service is provided on a timely basis to meet the needs of our students and is very thorough. They have taken on a true ownership role in terms of the appearance of the Saint Mary's University grounds.
Saint Mary's University
Gary Schmeisser
Facilities Management